Caressed by Ice (book)

Publication date
2008
Publication Order
Preceded by
Vision of Heat
Followed by
Mine to Possess
This is the 3rd book in the installment.
As an Arrow, an elite soldier in the Psy Council ranks, Judd Lauren was forced to do terrible things in the name of his people. Now a defector, his dark abilities have made him the most deadly of assassins - cold, pitiless, unfeeling. Until he meets Brenna . . .
Brenna Shane Kincaid was an innocent before she was abducted - and had her mind violated - by a serial killer. Her sense of evil runs so deep, she fears she could become a killer herself. Then the first dead body is found, victim of a familiar madness. Judd is her only hope, yet her sensual changeling side rebels against the inhuman chill of his personality, even as desire explodes between them. Shocking and raw, their passion is a danger that threatens not only their hearts, but their very lives . . .
Characters
Edit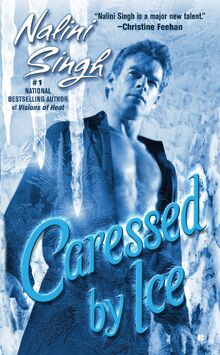 Main Characters
Recurring characters (in order of appearance):
New Characters (in order of appearance):
Greg
(Madeleine, Laine, Tillau, Quentin)
Others:
Arif Adelaja: Psy,
Catherine Adelaja (briefly mentioned - long deceased)
D'Arn
Dieter
Greg
Jen Liu
Kevin: a PineWood hyena who was programmed by the Psy to follow orders and was forced to attack the SnowDancer pack. He was saved by Judd who removed the programming.
Kieran
Laine
Lenik
Lucy
Madeline
Parrish:
Paul:
Naeem Adelaja (briefly mentioned - long deceased)
Quentin:
Saul:
Shah, Dr.:
Sing-Liu:
Tendaji Adelaja (briefly mentioned - long deceased)
Tliau: SnowDancer juvenile
Timothy (Tim, Timmy): (deceased) - presumably killed by a Psy.
Zaid Adelaja (briefly mentioned - long deceased)
Ad blocker interference detected!
Wikia is a free-to-use site that makes money from advertising. We have a modified experience for viewers using ad blockers

Wikia is not accessible if you've made further modifications. Remove the custom ad blocker rule(s) and the page will load as expected.